Intimate Skincare Collection
Customer Testimonial
"Hey girl! So we are officially six weeks into me using your products AND I AM FLOORED. I was always hopeful that they would work for me, but my ingrown hairs and razor bumps have always been an insecure area for me so I was afraid to get my hopes up too much.

6 weeks later, I see a visible difference already , in both dark marks (bikini and underarms), as well as the amount of ingrowns. I'm constantly inspecting down there and I'm so excited about the progress. I even gushed about your products to my wax lady. Thank you so much for what you do, you are saving lives and hot girl summers." - Lorae Uncensored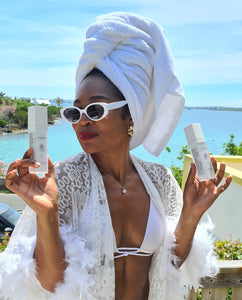 Customer Testimonial
"So I've been using the dark mark corrector on my underarms only for a few months now and I've noticed a dramatic difference already which I started seeing only after a few weeks. I've always been very self conscious of the marks on my underarms as they appear like they're hairy even right after a shave. But I'm excited to see what the difference will be after a few more months of use" - D.B.
Customer Testimonial
"I've always used an ingrown hair serum maybe for the past 10 years. There aren't many on the market, so I would pick mine up when away on a trip.......so your serum came in perfect timing! I love the smell and I had NO ingrown hairs with close to 2 months of usage! So I'm very happy to now have access to a good serum on island.....I'll need another bottle please! 😊" A.R.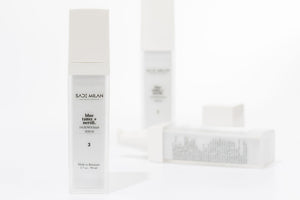 Who is Sade Milan Skin?
Firstly, thank you so much for checking us out!
We are an all natural feminine care brand based out of Bermuda that represents all things self care and feminine wellness.
Our vision is to create a space for those with vaginas to tap into their most confident selves by providing all natural, effective products and resources to tackle the all too common issues we face such as ingrown hairs, razor bumps, scent and dark marks just to name a few.
What started out as our Founder just playing around during Bermuda's first lock-down to try and solve her own issue with ingrowns, grew into this business a year and some change later.
We recognize and empathize with those who may feel self conscious about the issues discussed above and hope to create a sense of community moving forward to let those with vaginas know that they are not alone and that hey, shits normal !